Viewing video from your iPod Nano alone can provide you with hours of entertainment. However, if you want to view the video together with your buddies, it can be quite challenging due to its small screen size. With VideoBuddy, however, you can easily share and enjoy the video-viewing experience.

Video Buddy is a compact audio video (AV) kit produced by Gear4. It provides a simple way to play media on your iPod on a big screen or through a home stereo without any other third party device or software. Just plug in VideoBuddy with your iPod, connect the device with the supplied RCA cable to your TV or home stereo and select media files for playback. The TV-out mode setting up is automatically enabled and VideoBuddy doesn't require any batteries or power supply because it is powered by the iPod.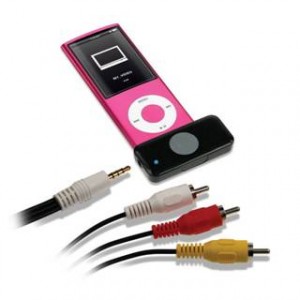 VideoBuddy is multi-iPod compatible. It supports iPod, iPod 4G Colour, iPod Classic, iPod Nano 2G, Nano G3, Nano G4 and iPod Touch. The iPod Touch users can scream Youtube videos wirelessly for playback via TV in addition to video, photo and audio playback.
Unfortunately, VideoBuddy doesn't come with a remote control so users need to walk frequently from the sofa to the TV to select the media to playback. Its size is small and suitable to be brought along while traveling. VideoBuddy is available now at Gear4 for about £30.