In 1884, the cutler Karl Elsener opened his own workshop in Ibach, a small village in the heart of Switzerland, and was later evolved into a globally oriented enterprise. 125 years later, besides producing the familiar and popular Swiss Army Knife, Victorinox today also produces household and professional knives, precision timepieces, design-driven yet functional fashion, high-quality travel gear, and fragrances. Adding to this list is the latest Victorinox SwissFlash 16Gb Laser Pointer with USB flash drive.



Priced at only $144.95 the 58mm long Victorinox SwissFlash housed the following:
Removable USB flash drive
Blade
Nail file with screwdriver
Scissors
Key ring
Laser Pointer
Retractable Ball Point Pen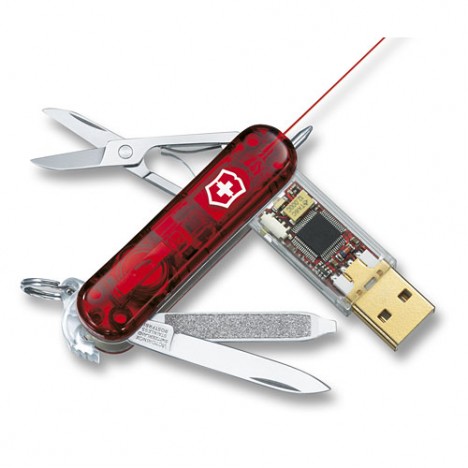 All of the products from the Victorinox have one thing in common: They are an expression of a Victorinox philosophy based on solid values. Impeccable quality combined with great reliability, consistent functionality with innovation, refinement with absolute perfection and iconic design. The most important of them all small enough to fit in your pocket. That's Victorinox!