VIA Technologies has just unveiled a new Mini-ITX based PC platform for embedded market. Named as EPIA M700, it is powered by C7 processor, running up to 1.5GHz and is coupled with VX800 chipset that is best suitable for both Point of Sale and Digital signage segment applications.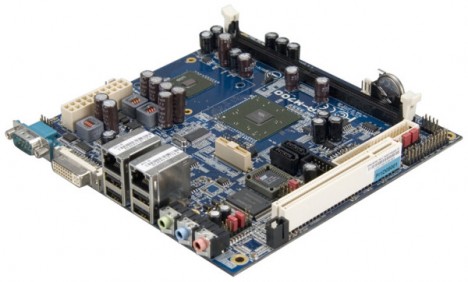 The processor comes with two SKU selections to meet both the high end and entry level requirements. The one running at 1.5GHz is targeted for CPU intensive application whereas the low end SKUs is clocking at 1.0GHz that simplifies thermal design requirement and is most suitable for fan-less applications. When combining with VX800 chipset, it provides a total two chips solution with integrated DirectX 9.0 graphics core as well as High Definition audio supports on the chipset. Besides, the VIA Chromotion engine is able to accelerate various kinds of famous decoding such as MPEG-2, MPEG-4, DivX, VC1 and etc through hardware acceleration that will help to offload CPU usage for other intensive tasks.
In terms of peripherals support, the platform offers two PCI-Express slots for high bandwidth data transfer. Besides, it supplies different types of storage ports such as PATA (Parallel ATA), SATA (Serial ATA) II, Compact Flash Type I as well as very useful USB 2.0 host ports (with six of them). The prototypes will be commercialized in June time frame. We should foresee the Mini-ITX standard platform to compete fiercefully against Intel Atom in certain extends especially when both are targeted for similar market segments with VIA Technologies' products stand a great advantage at a lower price point.