VIA Technologies has officially named its upcoming Isaiah processor as Nano. If you recall, VIA has stuck to its C7-M family processors for long and now seems to be the right time to release a higher performance silicon to recapture some of the lost market share from its competitors such as Intel and AMD especially in middle range product categories. Nano will be replacing VIA's long life C7-M series as a next generation processor with some great enhancements in terms of newer architecture, smaller process technology and more importantly, its high performance per cost will definitely threaten Intel Atom's position in both embedded and MID (Mobile Internet Device) market segments.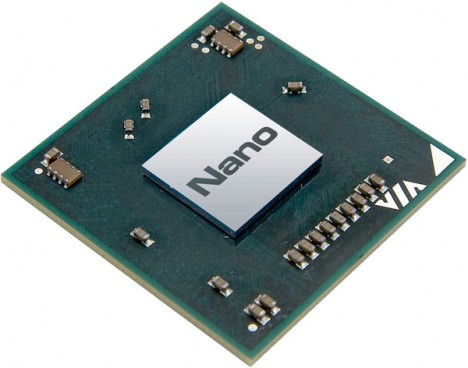 As you may perceive, the Nano processor is very tiny in size that make it very suitable for space constraint board and system design. Although it is fabricated using 65-nanometer process technology, its performance is believed to be on par or even better than single core Intel Atom. This has been shown in some of the benchmarking data posted in the web. Thanks to its Out of Order execution technology that able to execute multi-threaded processes in Out of Order manner, a 45-nanometer process technology Intel Atom that runs only with In order Execution technology doesn't seem to gain much advantages except power savings with lower TDP (Thermal Design Power). Another major advantage is, Isaiah will be packaged with pin-to-pin compatible with current C7-M that some of the VIA flavored board makers see no benefit to migrate to Intel X86 architecture that may suffer longer development cycle at higher cost.
The Nano processor is expected to compete head to head with Intel's recent launch Atom processor. Equivalent or even better performance with lower price point could a killing factor to Intel's Atom. Anyway, how success is the VIA Isaiah will be pretty much dependent on the actual silicon performance rather than just based on preliminary benchmarking data.