Nowadays board vendors emphasized much on high thermal efficient platform. Besides the hottest Intel Atom processor that was just launched recently, its competitor, VIA Technologies has just unveiled a highly thermal efficient X86 based architecture targeted for embedded world. Named as EPIA PX5000EG, it is one of the smallest form factor, Pico-ITX designed board that stands a great advantage in terms of performance per watt as compared to its competitors' products. The silicon manufacturer claimed that the maximum TDP (Thermal Design Power) of the processor draws less than one watt power suitable for fan-less applications.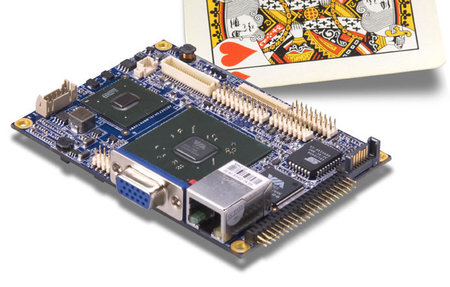 The platform is powered by VIA Eden ULV (Ultra Low Voltage) processor running at 500MHz. Besides the great power efficiency, the platform measured at only 10 cm X 7.2 cm which is great to be embedded into some space constraint end products such as flat panel PC and digital signage. Not to be limited by its board space, it featured advanced video/audio ports such as LVDS and VGA ports for dual panel display simultaneously. Furthermore, fast Ethernet, USB host, both PATA (Parallel ATA) and SATA (Serial ATA) are the must have hard drive peripherals for various kind of different applications.
Combining all the small form factor and thermal efficient advantages into one, VIA Technologies believe this could be the right product to fight against the Intel Atom after its official release recently. Also, low price point of Eden processor could be the killing factor that put VIA Technologies into the right slot before the powerful VIA Isaiah processor comes into market.