Have you ever heard before that a table lamp can be lighted up by a telephone socket? Uxsight has introduced an eco-friendly LED table lamp that can be lighted up by your house's telephone socket. This means that, you can still enjoy your reading if your house's power supply has been cut off and the best thing is you do not need to pay a single cent while using this table lamp.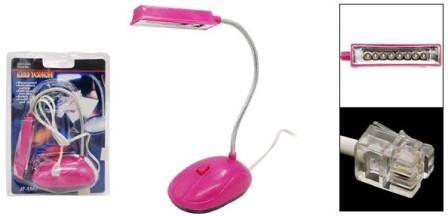 The lamp actually utilises the trickle power flowing from a RJ11 socket that is usually connected to your house phone. The lamp has 8 LEDs which are bright enough for your studying or reading on the desk. Although it's so energy efficient, there's no other way to plug it rather than in your telephone jack. Hence, you cannot plug it into any other power socket.
In terms of outfit, there is nothing surprising in the appearance. It is just a simple plastic design measuring approximately 27cm in height and weighing 74g. However, with just about USD$4.70 per unit, you shouldn't expect too much from this RJ11 LED lamp. It is available now from Uxsight. If you don't like its design, there are similar lamps (powered by RJ11 socket) with prices less than USD$10 offered by Uxsight. Maybe you can have one on your desk as an emergency table light during a power failure.