Sending huge files over the Internet is definitely a nightmare for many users especially businessmen who need to send large files such as business proposals, technical drawings, presentation slides, videos, etc from time to time. You can't send your files via email because most of the email service providers limit the size of the file that can be attached. Of course you can use the web hosting service to upload your files and send your recipients the URL to retrieve it. It is pretty fast and easy. However, the problem arises when you have multiple recipients. Uploading your file to a single site might create traffic problem if you have multiple recipients retrieving it. Undoubtedly you can upload your file to multiple hosting sites. Nevertheless, uploading files to many sites is time consuming and irritating. To get rid of your problems, probably you could try out Uploadjockey.

Uploadjockey features a unique function which allows users to upload their file only once and host it at 6 supported hosting service sites: Rapidshare, Badongo, Megaupload, Zshare, Sendspace, and Depositfiles. By using Uploadjockey, users can easily upload any file up to 100MB with a single click and monitoring or keeping track of how many times the file has been downloaded from the supported hosting services. To use UploadJockey, just go to the site. Browse the file you want to upload; type in the file's description (optional); check the Term of Service and finally click "Upload file" to start the uploading process. The drawback of UploadJockey is it doesn't show the uploading speed and estimated time.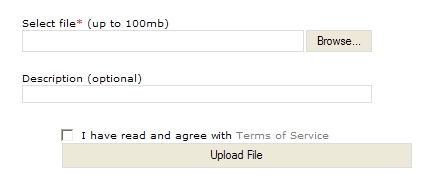 Once the uploading process is completed, users will be given an UploadJockey link. Users can give the URL to intended recipients to retrieve it. Recipients will be directed to a page at UploadJockey which shows all the download links from the six supported hosting services. Recipients can choose any link to download the file and UploadJockey will monitor the frequency of the files downloaded.
With UploadJockey, the recipients face less traffic congestion or the problem of slow downloading. However, since this service is absolutely free, users have to bear with some banner ads or pop-up ads when clicking the UploadJoky link. While helping to smoothen your huge files transferring process, UploadJockey also works out a scheme for users to make some money. Under UploadJockey's earning scheme, users will get $0.001 for each Unique download. The cash earned by users can be redeemed on a monthly basis. If their account balance reaches $10.00 in any month, UploadJockey will send out the payment 10 days after the end of the following month.