Windows XP Service Pack 3 (SP3) release schedule has possibly been tweaked (or it may be the previously leaked schedule is not detailed enough). In the latest release schedule obtained by news source, Windows XP SP3, the last service pack for Windows XP operating system will be published and delivered in stages beginning from end of April to early June.

The latest timetable for Windows XP3 RTM final version release date is schedule as below:
April 21, 2008: Wave 1 with seven languages released – English, French, German, Japanese, Simplified Chinese, Korean and Spanish. This release will still be privileged to Original Equipment Manufacturers (OEM), Volume License customers, Connect, and MSDN and TechNet subscribers.
April 29, 2008: First public for Wave 1 with seven languages above, but users have to manually update via Microsoft Update and Windows Update, or download standalone update package from Microsoft Download Center.
Update: Release to Web is delayed.
May 5, 2008: Wave 2 released with Arabic, Traditional Chinese, Chinese (Hong Kong), Czech, Danish, Dutch, Finnish, Greek, Hebrew, Hungarian, Italian, Norwegian, Polish, Portuguese (Brazilian), Portuguese (Portugal), Russian, Swedish and Turkish.
June 10, 2008: Windows XP SP3 will be delivered via Automatic Update (Windows Update).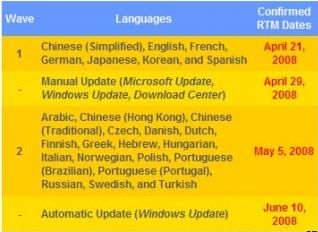 Check out also detailed release schedule for XP SP3 by channels.
Windows XP SP3 includes all hotfixes, updates and patches since Windows XP SP2, including addition of more product keys originally for Windows XP SP2 Professional edition. Existing product key will continue to work on SP3. The third service pack for Windows XP will be available in standalone update package, CD disc image (except Japanese version), and DVD disc image. Beside, Microsoft will also slipstream and release Windows XP Professional setup CD integrated with SP3. However, Media Center and Tablet PC editions will not have official SP3 integrated and slipstreamed CD setup disc. These editions can upgrade to SP3 via Windows Update from base of SP2.
Finally, the final build version number for Windows XP SP3 is not concluded yet, as Steven Sinofsky, Senior Vice President, Windows and Windows Live Engineering Group still tight lip about the version, which said, "The high numbering is common practice for hotfixes that are intended to be able to be applied to multiple versions of the operating system. The file version discussed does not imply a specific Windows XP SP3 version number." Windows XP SP3 is rumored to have final build 5573 as it's referenced by KB951126 which addresses issue of a multiprocessor computer that is running Windows Vista or Windows XP stops responding on a black screen after you resume the computer from hibernation.