The founder of the world first's wireless memory card, Eye-Fi Inc. has officially launched its next generation wireless SD memory cards. Now, the two new Eye-Fi's memory cards could even upload videos directly from a digital camera to a computer or Internet. The two new wireless memory cards are also upgraded with capacity of 4GB but at a lower price. This is really an attractive offer by Eye-Fi.

"The magic of Eye-Fi's new cards is that they work with the camera you already own to capture photos – and now videos – and send them directly to the Web for sharing", said Jef Holove, CEO for Eye-Fi.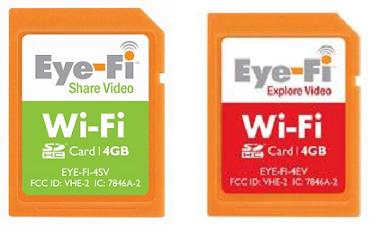 The two new memory cards are named Eye-Fi Share Video and Eye-Fi Explore Video. Both of the cards can automatically and effortlessly upload your photos and videos to more than 20 online popular sites like Flickr, YouTube and Facebook.
The Eye-Fi Explore Video has added two more functions compared with Eye-Fi Share Video. The Eye-Fi Explore Video card has a lifetime geotagging service where your photos and videos will be automatically geotagged with captured location information. Eye-Fi also offers 1 year unlimited upload facility at more than 10,000 Wi-Fi hotspots to Explore Video's users.
The new Eye-Fi cards are available for pre-order at Eye-Fi's website and will be available later this month. The 4GB Eye-Fi Share Video is priced at $79.99 and the 4GB Eye-Fi Explore Video at $99.99.