Swiss TAG Heuer has diversified from a watchmaker to luxury mobile phone producer with the introduction of their latest exclusive mobile phone MERIDIIST with its tagline 'Time in Your Hand'. TAG Heuer is well known for its expertise in luxury goods, little knowledge in technology & electronics, decided to work in collaboration with ModeLabs to produce this luxury phone for the market.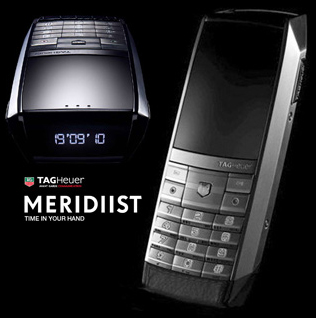 Meridiist comes with some unique features such as reversible clock and 1/100 of a second chronograph. Its dual displays consisting of a front LCD screen in 260K colours and a special OLED top screen protected by sapphire crystal scratch-resistant glass offering users a new level of refinement in addressing calls and viewing the time. Its 2MP high quality camera can be easily activated by sliding open the stainless steel cover behind the phone.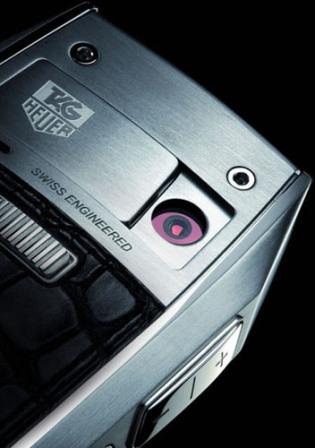 TAG Heuer Meridiist also supports MP3 music playback and video recording with a memory that holds up to 2GB. Its Li-Ion battery can last up to 28 days standby time and 7 hours of talk time, more than sufficient for even the busiest businessman.
Other luxurious specifications:
316L stainless steel case with hand brushed and polished finishing
Black PVD – Titanium carbide coating on 316L stainless steel
Backlit mechanical stainless steel keypad
Multi function TAG Heuer switch
60.5 carats of sapphire crystal glass on dual display screens
High quality rubber, calfskin leather and genuine alligator back plates
Dimensions: 112mm x 46mm x 15.5mm
Weight: 155g
Acoustics: separate earpiece for call mode, loudspeaker for handsfree, ringtones and music playback
Long duration battery: Li-lon 950mAh
Bluetooth: headset, car kit and data exchange profiles
Stereo Bluetooth for audio with compatible devices
Built-in modem
TAG Heuer Meridiist also comes in two special diamond editions, targeted at ladies. The more expensive version has 1232 diamonds worth 7.4 ct finely set in rows along the angled sides of the phone body and display screen framing. The less expensive version comes in 208 diamonds worth 1.3 ct, enveloping the top and bottom of the display screen.