In Windows Vista or Windows Vista SP1, when user clicks on Device Manager on Tasks list on the left pane of the Control Panel System page, which can be open by right clicking on Computer and select Properties, the system does not response nor open up Device Manager window. However, the rest of the tasks, i.e. Remote Settings, System Protection and Advanced System Settings, the System Properties dialog can be opened, which user can then open Device Manager from the Hardware tab successfully. Or, the user can also open Device Manager directly from System and Maintenance in Control Panel without problem.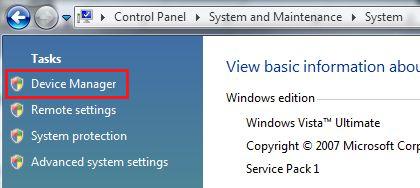 The cannot open Device Manager from Tasks pane link when clicked problem or error happens most probably caused by conflicting programs or drivers that may interferes with Windows normal operation. One such program is known to be NamiPan downloader. The Chinese program is the culprit for not only Device Manager link not responding when click, but also various other issues such as clicking shortcut of Microsoft Office 2007 in Start Menu does not run the application as expected.
To resolve the issue, uninstall the not compliant and not compatible conflicting program such as NamiPan. In the case of NamiPan, the problem can be solved by deselecting (unchecking) "Resource Manager Menu" and "IE Menu" options in the Settings.