Uconomix Encryption Engine (UEE) is a file encryption utility that allows users to protect the privacy of your sensitive files and folders by encrypting them with strong encryption algorithm and a password. Once encrypted, the files or folders can not be viewed without the original password with which they were encrypted.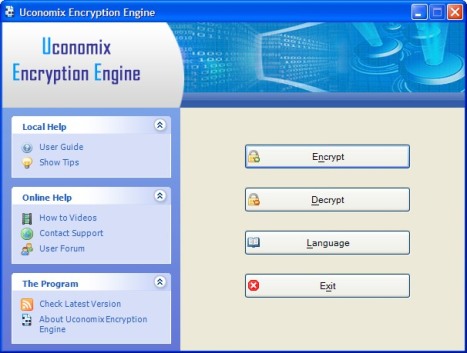 Uconomix Encryption Engine can password protect multiple files and entire folders with just a few clicks. The encrypted files can be stored on any unsecured devices or can be sent through email without worrying about the security of the data. UEE can encrypt any and all types of files like Word, PDF, Excel, PPT, images, MP3, AVI and more.
Giveawayoftheday gives away Uconomix Encryption Engine for free download and unlimited usage license. Download the free Uconomix Encryption Engine, and then run the Activate.exe, follow by Setup.exe installation program to install the UEE. The free software must be installed today (April 12th 2008).
Uconomix Encryption Engine supports English, German, Spanish, French and Italian languages. If you miss out this deal, nothing to lose, as UEE functionality is pretty limited, and there's better alternative freeware for encryption, such as TrueCrypt. If you want to try out the UEE, the 15-day free trial can be downloaded from uconomix.com.