Unique ringtone has become a sign of prestige nowadays. Mobile phone users especially youngsters generally like to set unique ringtones on their mobile phones to show they are in line with the latest trends and also differentiate themselves from other users. In fact having a unique ringtone is quite practical and helpful especially when you are amongst a packed crowd. You can easily recognize your incoming calls with your special ringing signal. To customize and set your favourite songs as your ringtone, probably you need to go to mobile a phone shop or kiosk, pay some money and get the shop assistant to help you. However, if you think getting people to help is costly and inconvenient, may be you should consider this tiny application, Toneshop, a Freeware application which can help you create you own D.I.Y. ringtone.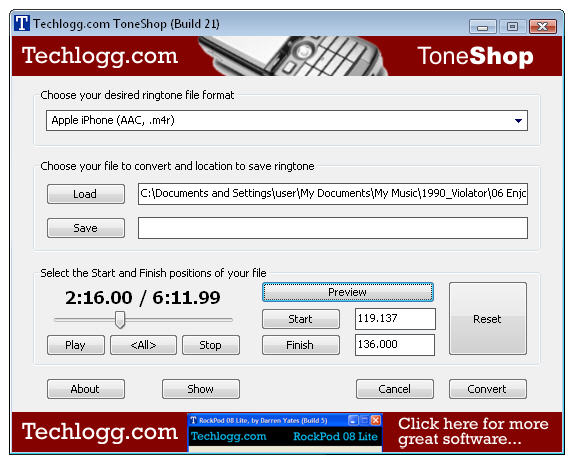 Toneshop is easy to use even for those who are not very tech-savvy. Just select the right ring tone output format for your mobile phone – MP3, W4A, WAV or WMA. Then load your original audio file and choose the output file name and location. Next use Toneshop's simple editing tools to choose the right portion and duration of the ring tone. Press Start and Stop to identify the portion you want to use as your ring tone. You can still edit the times after that by changing the values in the text box. When you are satisfied with your selection, hit convert and the freeware will do the rest.
If you are a fan of personalised ring tones and change your ring tones as frequently as you change your shoes, try Toneshop for free and easy to install ringtones of high quality.