The leading company in television services for digital video recorders (DVRs), Tivo has announced the availability of YouTube videos on the TV via TiVo DVR, allowing broadband-connected subscribers with TiVo Series3 and TiVo HD DVRs to search, browse and watch million of videos from YouTube directly on their televisions.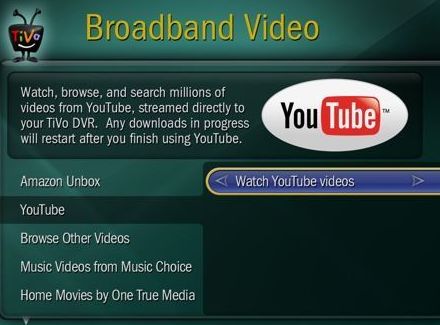 "YouTube brings video where the audience is – across the Web and onto mobile devices, TVs and video games," said Hunter Walk, YouTube's director of product management. "The partnership with TiVo extends our ability to make YouTube accessible anywhere and lets people watch what they want, when they want it."
In addition, TiVo will roll-out a free software upgrade to Series3 and TiVo HD DVRs that enable users to log into their YouTube accounts. Check Tivo's official site for more information on how to view YouTube videos on the TV via a TiVo DVR.