Great news for e-sports fans! The well-known Toronto-based mobile sports media company, theScore Inc. is expanding its service to launch eSports app for Android platform, which provides live scores updates, stats, event notifications, and video streams for League of Legends from professional leagues in Korea, North America, Europe and China to your mobile device.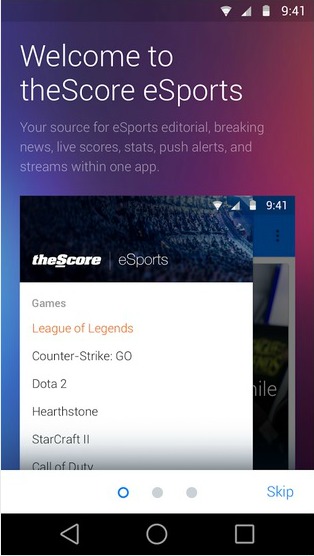 In addition to live scores, sports fans also can get breaking news coverage of Dota 2, Counter-Strike: GO, Call of Duty, StarCraft II and Hearthstone, and more via new mobile sports app from theScore. theScore eSports app also has direct links to watch livestreams via Twitch or YouTube.
Key features of theScore eSports:
Breaking news and live scoring coverage of League of Legends (NA LCS, EU LCS, LCK and LPL regions)
Game-by-game breaking news coverage of DOTA 2, Counter-Strike: GO, Call of Duty, StarCraft II and Hearthstone
Push Alerts – Set-up notifications to receive match and game alerts of LoL, as well as breaking news alerts for all games, teams and players
Top News – All the latest stories from across the world of eSports, in one place
Watch on-the-go – theScore eSports provides curated links to the best live streams
"The launch of theScore eSports is a huge development for the world of eSports," said Breslau, a 13-year veteran journalist and broadcaster of competitive gaming and eSports. "Creating an awesome mobile experience like this is the natural next step in the enormous growth of competitive gaming."
theScore already has two similar apps for traditional sports: one dedicated to professional soccer, and another that covers NFL, NCAA football, MLB, NBA, NHL EPL and La Liga.
theScore eSports app for Android is now available as a free download from the Google Play Store, and is expected to be available on iOS mobile platforms in the near future.
Download theScore eSports app for Android as a free download from Google Play Store.