Behold the new Ai Guru SV1 by Asus, the world's first Skype Certified videophone dedicated to unlimited video calling over the Internet. It comes in a large 7″ display and a built-in webcam, speaker and microphone, the WiFi-capable videophone lets users make unlimited video calls for free to other Skype users, and the best thing is, you don't need a computer to do all this.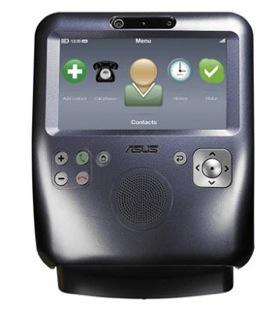 Its simple-to-use, icon-based interface and intuitive button layout take the complexity out of Internet calling – making it easy for anyone to make and receive Skype-to-Skype video and voice calls. Users can even join voice conferences, making the ASUS AiGuru SV1 an inexpensive, all-in-one voice and video conferencing solution.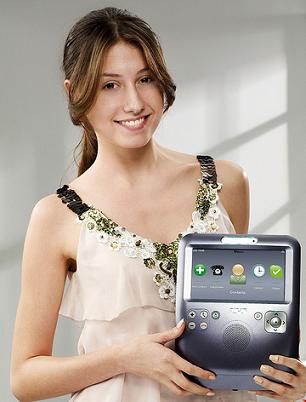 Free Calls Whenever, Wherever and Forever
With the ASUS AiGuru SV1, free unlimited video and voice calls can be made to anyone on Skype.
Great Video and Voice Communications Experience
The ASUS AiGuru SV1 is designed specifically for video calling and is equipped with a large, high-resolution 7″ TFT LCD and an integrated webcam, for the best video calling quality. The ASUS AiGuru SV1 also features a built-in microphone and speaker supporting exceptional sound quality. For a little more privacy during calls, you can opt for a standard mini-jack headset and microphone.
Easy to Set Up and Easy to Use
The ASUS AiGuru SV1 offers the quickest and easiest way to make free video calls – at no point is a computer or additional software required. Users can get up and running in three simple steps:
1. Connect to a broadband connection, either wirelessly or via an Ethernet cable
2. Sign-in with an existing Skype name or create a new one
3. Start video calling
Complete with its built-in WiFi capability, small footprint and rechargeable battery power system, the ASUS AiGuru SV1 can be moved anywhere. Now, that's portability.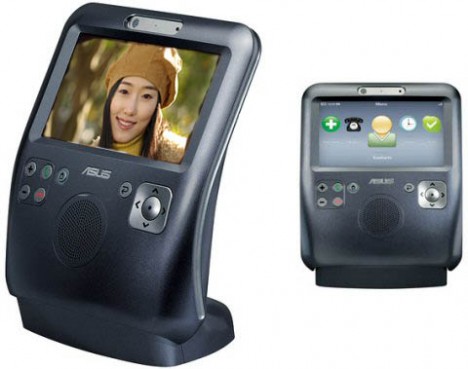 Specifications
Dimensions
202 mm (L) x 123 mm (W) x 253 mm (H)
Weight
1.6 kg
Display
800 X 480 pixel 7″ TFT LCD
Camera type
Built in Webcam CMOS (640 X 480 pixels)
Audio
Integrated Speaker
Internal Microphone
Power supply
AC Adaptor: 12V/3A
Battery life
Talking Time : 20 minutes
Standby Time : 30 minutes
Battery charging time
2 hours
Operating distance
Wireless: 50 m
Keypad and buttons
Power button
Volume keys
5-way navigation (Up, Down, Left, Right and Select keys)
Menu key
Back key
Call key
End key
I/O connectors
3.5 mm Headphone jack and Microphone jack
RJ-45 connector
USB type A connector
DC Jack
Battery connector