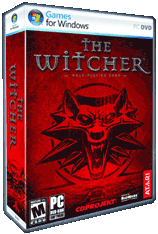 The Witcher is probably one of the best action RPG (role-playing game) for PC, developed by CD Projekt RED STUDIO and published by CDProjekt in Poland and Atari for the rest of the world. The player takes on the character of a Witcher, a warrior trained to fight the supernatural. Set in a dark fantasy world created by best-selling Polish author Andrzej Sapkowski, the game follows the story of Geralt, one of a few remaining few "witchers", who are travelling monster hunters for hire, gifted with unnatural powers.

The good about the game is it looks, sounds and feels lived in the dark magic world. If you are a great fan of Harry Porter, you will definitely love the game. The innovative new combat mechanics add depth in place of mindless clicking, in addition of cinematic visuals and superb soundtrack. The natural light during various phases of the day in the the Witcher is realistically altered, and the day and night transitions serve to enrich the game's ambience. The weather can dynamically change from a light drizzle to a dark, stormy downpour accompanied by thunder and lightning.
The Witcher is said to combine spectacular action with an intriguing storyline. If you like dark fantasy and RPG's this is probably one that you should look into. The Witcher demo and game can be downloaded from its The Witcher official site.