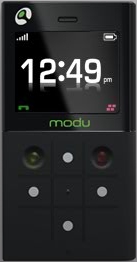 How small can a mobile phone be? An Israeli company, Modu Mobile, released a tiny mobile phone weighing around 40.1g and measuring 72mm x 37mm x 7.8mm. Modu Mobile which was funded by Dov Moran, who sold msystems to SanDisk claimed that this newly launched handset is the world's smallest and lightest mobile phone available. The Modu phone was designed in a very unique way. It can operate as a standalone phone and also can be fitted into different cases or so called 'jackets'. Users can slot the underlying Modu phone to different jackets from time to time to have different graphics or color schemes on its display. Besides, users also can slot the Modu phone to some jackets which can enhance or add extra functions of the original device. For instance, users can slot Modu into a GPS device to display maps for addresses that a user has saved on the phone. A home cordless phone could display numbers and other address book information when a Modu is plugged into its base.

To gain better popularity and a bigger market share, Modu Mobile Group has started negotiation with other conglomerates to customize suitable jackets for Modu phone. Modu has announced that the Universal Music Group will develop jackets with preloaded content from its artists and music-themed designs for Modu Phone. Other than that, Modu Mobile also signed strategic partnerships with some major network operators like Telecom Italia's mobile division TIM, Russia's BeeLine and Cellcom in Israel.
As the mobile phone industry becomes more and more competitive nowadays, it is very difficult for a new brand to survive and compete with market leaders such as Nokia, Samsung, Sony Ericsson, Motorola, etc. provided the business model and strategy are completely different. The "jacket" concept introduced by Modu Mobile is quite innovative. Another innovative idea to cater to the mobile phone market is the zzzPhone which allows customers to customize their preferred features and place direct orders from the manufacturer online.
This is a summary of the Features of the Modu Mobile concept phone:
• Ability to send/receive SMS
• Speaker
• Bluetooth
• MP3 Player
• Minimum 1GB of storage
• Can act as mass storage USB Flash Drive