Looking for a more convenient way to work with your digital picture frames and other portable image devices? Look no further. ACD Systems had announced the release of ACDSee Picture Frame Manager, a user friendly software program that provides a better overall experience for digital picture frame owners.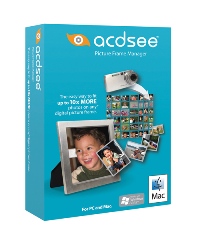 With the ACDSee Picture Frame Manager, you can say goodbye to cumbersome process of uploading photos to a frame or struggling to figure out how to set image resolution that fits the frame size perfectly every time when trying to present high quality photos to friends and family. ADCSee Picture Frame Manager will simplify all these and allows effortless digital frame images management in few simple steps:
Simply connects your computer (installed with the Picture Frame Manager) to any removable memory device i.e. picture frame, SD card, USB drive or other portable display
Using the drag-and-drop features you can easily load, move, change or delete those images effortlessly
The software will increase the memory capacity up to 10 times extra by optimizing images for frames of any size or resolution
For smoother photos transitions, ACDSee Picture Frame Manager will converts all types of decodable image files (TIF, GIF, PNG and RAW) automatically to JPEG format

The ACDSee Picture Frame Manager will be available at retail outlets this coming April 2009 for a price of $39.99(USD). So, get more out of your digital picture frame with this new ACDSee Picture Frame Manager and start optimizing your pictures today.