Users are often required to give passwords to access personal information that is stored in a computer or online account. What are the elements which constitute a strong password that can reduce the possibility of hackers or information thieves cracking into your system and stealing your private data? We have discussed this in our previous post and suggested the use of the password chart to create a strong password. Once you have created your password, you can actually test its strength or safety with some online applications.

Microsoft provides a facility called Password Checker which allows users to test how strong is their chosen password. Users can go to Password Checker online and key in their password. The program will indicate whether the password chosen is weak, medium, or strong.


Use Password Checker to test your password's strength.
The Password Meter web utility tests the strength of your passwords as you type it, scoring your password strength based on a number of positive and negative password attributes. The test measures the number of characters, type of characters used, and the order of characters in your password. (Sequential letters or numbers, for example, equals weak passwords). Toss your favorite high-security password into this tool—you may be surprised at how it fares.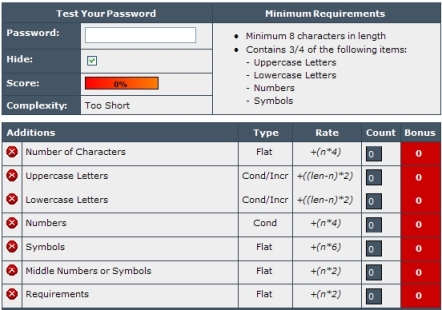 Screenshot of Password Meter