The Microsoft subsidiary and pioneer of voice services for people and businesses, Tellme has announced the new addition of local "on-the-go" information service (based on global positioning system (GPS) technology) to its voice portal for mobile phones. It's the latest voice search application that lets people speak commands and see the results right on their smartphone's screen, instead of typing in a request or scrolling through menus to find information, allowing users to get the info they need in easier way when they're on the go.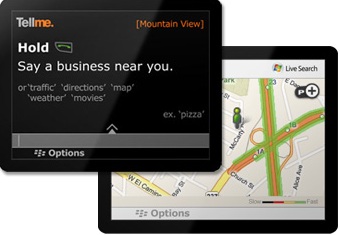 "Tellme believes in the power of voice to transform how people use devices," said Mike McCue, founder and general manager of Tellme. "Tellme delivers an end-to-end experience. As opposed to broad Web search where the user sees a list of results, Tellme focuses on specific tasks where a spoken request leads to a specific answer — like a movie show time, local weather info or driving directions."
Example Of Tellme On-The-Go Information Service:
Business Finder: Say the name of a business or business category, such as "coffee" or "hardware" driving directions, an option to call the business or share the listing with a friend.
Movies: Say the name of a movie theater and see theaters closest to you, movie show times, driving directions to the theater and the ability to buy tickets powered by Fandango, the nation's leading moviegoer destination.
Traffic: Say "traffic" and get a map with traffic conditions on major local routes, all using Live Search Virtual Earth.
Weather: Say "weather" and see a five-day forecast for your local area or say a different city to see weather for any other U.S. city.
Maps: Say "map" and, using GPS and Live Search Maps, see a map of the local area or say a new city and the map is automatically updated.
Driving Directions: Say "driving directions" and speak or type a destination to see step-by-step directions from your current starting location.
According to the company, "This new version of Tellme is initially available on BlackBerry phones and is scheduled to roll out on future Helio devices."