Browsing articles tagged with "Windows 7 Archives - Page 5 of 5 - Tip and Trick"
Microsoft Security Essentials (MSE) is free anti-virus solution from Microsoft that provides real-time protection against viruses, spyware, and other malicious software. Microsoft Security Essentials is free not only for personal and home users, but also free for small businesses.
Microsoft has officially released the developer preview version of Windows 8.1. Windows 8.1, previously known as Windows Blue, is the first major update for the Windows 8 operating system. Windows 8.1 adds new features and functionality that advances the touch experience and mobile computing's potential by deliver improvements and enhancements in key areas like personalization, search, the built-in apps, Windows Store experience, and cloud connectivity.
Lenovo ThinkPad series of notebook computers preloaded with Windows Vista, Windows 7 and Windows 8 may contain additional system recovery partitions which show up in Windows Explorer with the Q and S drive letters.
But for some users, the Q and/or S drive letters may be required for other usages, such as mapping of networked folders, network drives and remote locations, or are used by other proprietary applications and etc. In some case, you may just want or need to hide these partitions so that they are not displayed, while others may want to assign different drive letters to the partitions.
Continue reading »
In Windows 7 and Windows 8, Microsoft introduces Library feature that serves as collection folders for users to access to all the documents, music, pictures, and other files from several locations in one single place. Library is useful for users who store their files across many folders in multiple drives, such as on the PC, external hard disk drives, USB flash drives, remote network folders and etc.
By default, the built-in libraries in Windows 7 and Windows 8, i.e. Documents, Music, Pictures and Videos, include two physical disk locations, namely the respective user folders of "My Documents", "My Music", "My Pictures" and "My Videos", together with their corresponding Public folders. Users are freely add and remove folders to these built-in libraries, or create new Library if need arises.
Continue reading »
When users run and launch Windows Explorer, the GUI shell for Windows operating system will open Windows Explorer in default folder – Libraries. The default setting in Windows that assumes most users will make use of the default folders to manage their documents, pictures, videos, and music, thus having Windows Explorer opening in location Libraries by default is convenient for most users.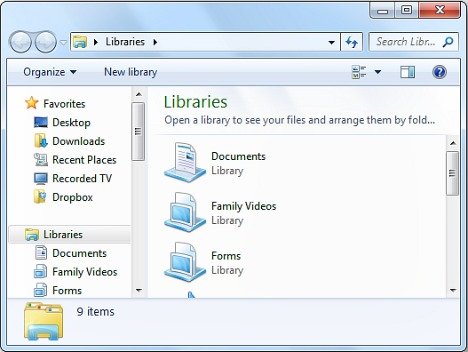 Continue reading »