Browsing articles tagged with "Samsung Galaxy S5 Archives - Tip and Trick"
For people who are considering to purchase a new Android powered smartphone with competitive specifications, the Sony Xperia Z2 and Samsung Galaxy S5 smartphones might in your consideration lists, as both Sony and Samsung smartphones houses same Snapdragon 801 series based SoC (System on Chip) manufactured, but differ in CPU speed. Sony Xperia Z2 features Snapdragon 801 MSM8974AB chipset which can top CPU speed up to 2.3GHz, whereas Galaxy S5's processor MSM8974AC has a maximum clock rate of 2.5GHz.
If you would like to know more details of two high-performance smartphones, here's a comparative table of Sony Xperia Z2 vs Samsung Galaxy S5 which list side-by-side the features and specs comparison at a quick glance.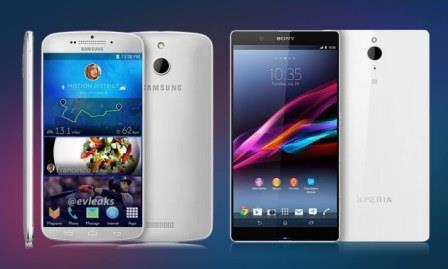 Continue reading »
As Mobile World Congress 2014 blazes on in Barcelona, the smartphone world has been largely defined by the struggle between Samsung and HTC. On one hand, there's the runaway success of 2013's Galaxy S4 coupled with the rise of the Android 4.4 platform; on the other, in HTC and its HTC One was one of the finest Android handsets of 2013. The two firms and their product offerings are as closely matched as ever. Now that Samsung has unveiled its latest flagship handset – the Galaxy S5 – the battle for 2014 looks like it has kicked off in earnest, and the two bitter rivals are each looking to establish themselves as the industry's top dog.
The Galaxy S5 comes with notable features than its predecessor – the Galaxy S4. It is packed with a fingerprint sensor, increased screen size, a waterproof encasing, and upgraded camera components. While, HTC raised the bar with the One, adding in new hardware, cutting edge design and a complete rethink of its custom Android skin, Sense.
Continue reading »