Browsing articles tagged with "Panda Internet Security Archives - Tip and Trick"
As new threats emerge, Antivirus or anti-virus software, sometimes known as anti-malware solutions, is computer software used to protection against viruses, Trojans, bots, rootkits, exploit kits, spam, phishing attacks, browser hijackers, ransomware, keyloggers, backdoors, rootkits, trojan horses, worms, malicious LSPs, dialers, fraudtools, adware and spyware.
If you're using a Windows 10 PC or laptop, it's includes basic antivirus software called Windows Defender, but if you want more advanced protection for your PC or laptop, you can install either Norton, Bitdefender, Kaspersky, or other antivirus security suite. Antivirus software is available in free or paid options that costs around $20 to $40 to offer excellent protection.
The good news is there are some great antivirus security suite that are completely free to download. In this article, we bring you free 17 best paid antivirus software for your PC or laptop.
Continue reading »
Panda Internet Security 2016 is a latest version advanced security suite that provides all-in-one protection to against viruses, spyware, rootkits, and all kinds of cyber criminals to ensure users can surf the Web with a peace of mind. Panda Internet Security 2016 combines antivirus, antispyware, firewall, identity protection, antispam, parental controls, backup copies, gaming or multi-media mode, home network management, remote system access and Plus! Secure browser into a single package, aiming to offer freedom for staying safe on the Internet especially while do online shopping and banking. Panda Antivirus Pro 2016 also offers multiplatform protection such as Windows, Android, iPhone, and iPad.

Panda Security has upgraded its anti-virus offering, Panda Internet Security, to version 2013. Panda Internet Security 2013 improves on its already reliable security protection for PC computer against malicious viruses, online fraud, identity theft, hackers, unsolicited emails, and cybercriminals to ensure users can surf the Web with a peace of mind. It adds new scan manager features, which is designed to increase the file processing scans speed up to 70% by leveraging system resources for maximum productivity.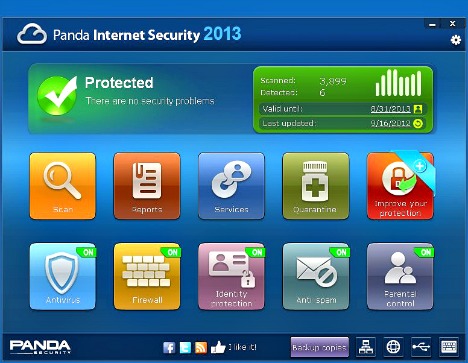 Continue reading »