Panda Security has upgraded its anti-virus offering, Panda Internet Security, to version 2013. Panda Internet Security 2013 improves on its already reliable security protection for PC computer against malicious viruses, online fraud, identity theft, hackers, unsolicited emails, and cybercriminals to ensure users can surf the Web with a peace of mind. It adds new scan manager features, which is designed to increase the file processing scans speed up to 70% by leveraging system resources for maximum productivity.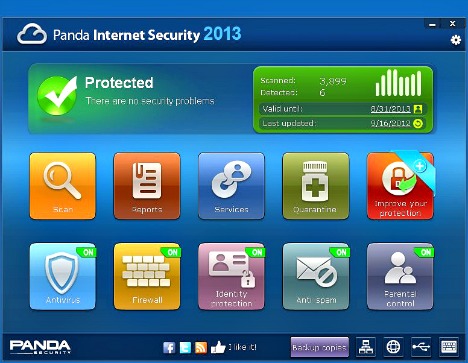 Features of Panda Internet Security 2013:
Easier, lighter, secure, complete.
Real-time protection.
Protect your identity while you are browsing.
Protect your PC and your networks against viruses and other threats.
New Web Filter for safe Web browsing.
Chat and use the mail without worrying about online fraud or spam.
Vaccinate your USB flash drives against infections.
Back up your data in case you have problems with your PC.
Back up and retrieve data in quickly and simply.
Parental control.
Anti-spam protection keeps your inbox free of all unwanted messages.
Identity protection stops data leakage by preventing applications from obtaining confidential information.
Modern and intuitive interface, and are compatible with Windows 8 – Microsoft's new operating system.
In addition, Panda Internet Security 2013 also delivers cloud-based Collective Intelligence technology by harnessing the millions of Panda Security users instantly shared malware-related information to improve protection across all connected computers.
Panda Internet Security 2013 is generally priced at $60.99 per 1-year single license key for 1 PC. Usually the software provides only 1 month free trial, but Panda Security is now giving away trial version of Panda Internet Security 2013 which includes 3 months service for free, for its Facebook fans at no cost.
To grab free 3 months subscription Panda Internet Security 2013 legally, just follows the below steps:
Visit Panda Security Facebook page and click on the "Like" button to download the Panda Internet Security 2013.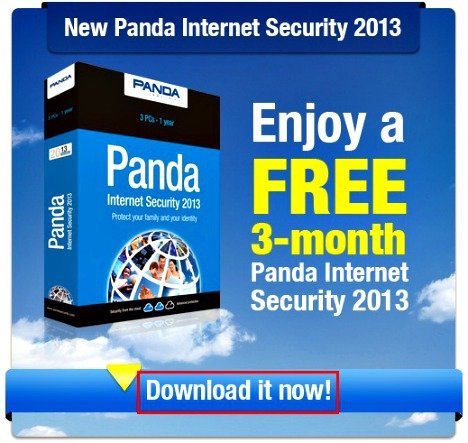 < Alternatively, directly download the free 3 months subscription setup installer of the Panda Internet Security 2013: FacebookpromoIS13.exe
No activation code or license serial key required.
Panda Internet Security 2013 is compatible with Windows XP, Windows Vista, Windows 7, and Windows 8 platforms.
Update: Panda Internet Security 2016 Free Download With 6 Months Genuine Serial Key