In conjunction with the launch of new Microsoft Surface 2, Microsoft has also announced the new Surface Pro 2. Microsoft was focus on two things in the Surface Pro 2 which is longer battery life and an improved kickstand. It exactly like its predecessor for overall, but has surprise on the new Intel Haswell chips and more RAM upgraded. . The Surface Pro 2 was improved the internals with picking up a Haswell processor which replaces the Ivy Bridge in the older unit. The Surface Pro 2 comes with 64GB, 128GB, 256GB, or 512GB of storage.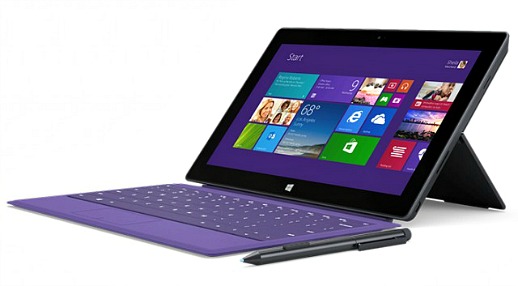 Specification of Microsoft Surface Pro 2:
Screen: 10.6 Inch 1080p display. Pixel count: 1920×1080.
Intel Haswell Core i5 CPU-4200U Haswell processor generation running at 1.6 gigahertz.
4GB or 8GB RAM
From 64GB to 512GB internal storage and expect to shell out for the higher capacity.
Upgrades the processor to 1.7GHz Nvidia Tegra 4 chips
Microsoft claims up to 60% improvement for the battery life.
The built in kickstand now adjust to two different angles, making the system easier to see from different positions. The new added 40 degree setting allows for improved on-lap usage of the Surface.
0.53 inches thickness with only 2 pounds weight. Actually, Microsoft isn't paid more focus on this. It just simply remains it as same weight with the original Surface Pro.
Microsoft also launches some new accessories to go with the new Surface Pro 2 tablets. Joining the existing Touch Cover 2 and Type Cover 2 are the Power Cover—a cover containing a battery to help extend the runtime. With this new cover, it will add 2.5 times the battery life of the original product. There is also a docking station that adds three USB 2 ports, one USB 3 port, another mini-DisplayPort output, and a gigabit Ethernet port.
Surface Pro 2 will be available starting October 22 with the price at $899, but the internal storage can be upgraded to a 512GB SSD. Both Surface Pro 2 and Surface 2 will be available in 22 initial markets: Australia, Austria, Belgium, Canada, Denmark, Finland, France, Germany, Hong Kong, Ireland, Italy, Luxembourg, the Netherlands, New Zealand, Norway, Portugal, Spain, Sweden, Switzerland, the UK, and the USA.