The famous leading manufacturer of flash storage solutions and DRAM memory modules, Super Talent Technology has announced the launch of its three new 8GB USB flash drives including PICO-A with a swivel lid, the retractable PICO-B and ultra small PICO-C (4.7 grams ; 31.3mm x 12.4mm x 3.4mm) thanks to the chip-on-board (COB) technology. According to the company, these PICO USB flash drives can support up to 30 MB/s (200X) transfer speeds.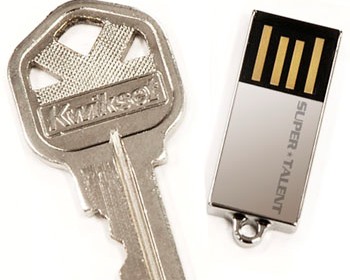 "These 8GB PICO drives have redefined mobile storage, combining new levels of speed, elegance and durability into the world's smallest pen drive", said Joe James, Marketing Director of Super Talent.
All three Super Talent's PICO USB flash drives are available now for about $35.