Nowadays the online threat, cyber-threats, cyber security, cyber fraud, internet fraud, cybercrimes, internet threats become worst. The most effective way of protecting yourself when surf internet is use unique passwords for each website. Therefore, you need a password management application – Sticky Password for the solution.
Sticky Password is available for Windows, Mac, iOS, and Android that features store user personal passwords, form fills, and credit card information securely by using AES-256 encryption technology. The program able to generate powerful and strong passwords randomly using a mixture of letters, numbers and special characters automatically.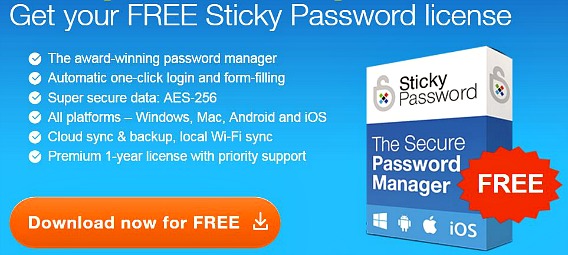 Features of Sticky Password:
Easy to use interface
Auto-generation strong, secure, unique passwords
Enjoy premium quality security for your all of your passwords & personal information
Automatically log-in to recognized sites
Choose between cloud-based or local storage for password library
Fill out online forms instantly
Import existing passwords from your browser, KeePass, LastPass or RoboForm Everywhere, Dashlane, Kaspersky Password Manager, 1Password
Multi-factor authentication (for devices, not individual websites)
Biometrics authentication (on mobile devices with fingerprint scanners)
Cloud storage of passwords
Local WiFi syncing across devices
Support for all type of devices
Sticky Password comes in 2 version – free or premium version. The main different between free and premium version is the ability to sync devices using either the cloud or WiFi, priority support, cloud storage of passwords, encrypted passwords for all accounts and managed by a single master password. The premium version normally cost $19.99 for subscriptions per year, or $99.99 for a lifetime license.
As part of New Year 2017 celebrate, Softpedia is giving away free 1 year Sticky Password Premium version to everyone. Offer expires 31, Jan 2017.
Interested users who intend to try can go to offer page from HERE, and then click "Download now for FREE" button. Once download, install the software and activate the premium subscription to enjoy 1 year license.
You can share or follow us on Twitter, add us to your circle on Google+ or like our Facebook page to keep yourself updated on all the latest info from Microsoft, Google, Apple and the Web.