Steganos Online Shield VPN is a powerful utility tool that provides protection security for personal data to Windows and Android users while online or visit websites and social networks.
With Steganos Online Shield VPN data encryption feature, it can protecting user from intruders and access the internet free of hackers and malicious when using public Wi-Fi networks. The program can identify all devices on Wi-Fi network and block potential threats to read user messages and emails.
Steganos Online Shield VPN (Virtual Private Networks) also feature help user access to any website or service that restricted and completely hiding their identity. Steganos Online Shield will prevent social networks tracking such as Facebook and automatically delete cookies.
To activate Steganos Online Shield VPN, simply drag the red shield up, if the network provides risks, the program warns of the risks with messages and changes the shield colour as an alert. Steganos Online Shield VPN allows user connect up to 5 devices (PCs or Android devices) simultaneously with single license.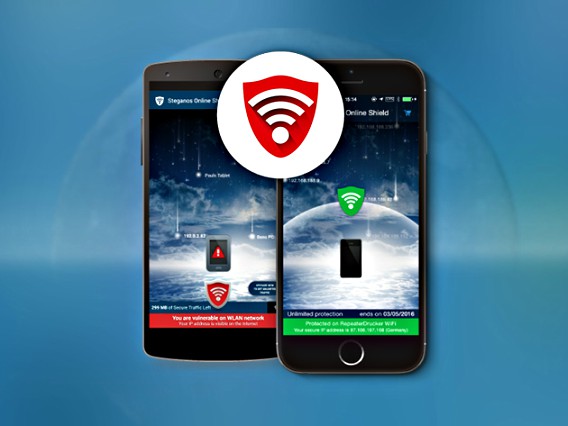 Features of Steganos Online Shield VPN:
Browse anonymously on one of 120 nodes in 9 countries with up to 5 devices
Avoid ads & popups while you're browsing
Keep personal info safe thanks to prevented social tracking by Facebook & automatic cookie deletion
Secure browsing on tablets or mobile devices
Bypass geographical restrictions and free from observation
Worldwide protection in wireless network
Free from regional content blocks
Servers are available in many country such as Austria, Canada, France, Germany, Great Britain, Italy, Japan, Netherlands, Poland, Romania, Spain, Switzerland, Turkey, and the USA.
Steganos Online Shield VPN normally cost $39.99 for purchase. As part of promotional offer with PC Format magazine, Steganos is giving away 1 year Free VPN service to everyone. Interest user just follow the steps below to grab this offer.
Go to the promotional page HERE.
Enter the email address and click "Request Serialnumber" button.
Before clicking read the text near to the checkbox and do as per requirement, check to subscribe to the newsletter or not.
An email from Steganos support team will send to user mailbox.
Follow the messages instruction to grab the free license of Steganos Online Shield VPN.
Download Steganos Online Shield VPN and stay protected from hackers!
Steganos Online Shield VPN compatible with Windows Vista, 7, 8, or Windows 10
VPN will creates an encrypted tunnel to secure server and keep ID hidden. It can prevents websites from tracking user movements across the Web and encrypted connection to ensure Web traffic smooth.
You can share or follow us on Twitter, add us to your circle on Google+ or like our Facebook page to keep yourself updated on all the latest info from Microsoft, Google, Apple and the Web.