Sony Mobile has officially announced its new Xperia smartphones – Xperia tipo. The new Xperia tipo is designed for consumers who want to realize the benefits of a smartphone for the first time that migrate from a feature phone. Sony Xperia tipo available in a dual-SIM version. With a simple touch, consumers can switch between tariffs to stay on the most cost effective plan.
The Xperia tipo comes with a 3.2-inch scratch resistant display. It's powered by an 800 MHz Qualcomm Snapdragon MSM7225AA processor and launches with Android 4.0 Ice Cream Sandwich that let users enjoy faster browsing the web, sharing photo, and downloading apps.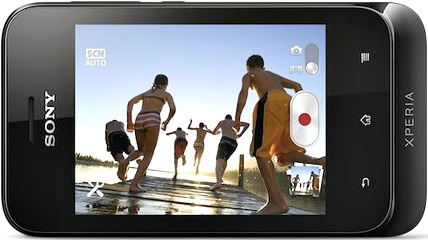 Key Features and Specs of Sony Xperia tipo:
Large 3.2-inch HVGA TFT screen with scratch-resistant mineral glass (320 x 480 pixels resolution)
Run Android 4.0 Ice Cream Sandwich
Powered by an 800MHz processor (Qualcomm Snapdragon MSM7225AA chipset)
microSD card slot and 2.9GB of built-in memory with 2.5GB accessible to the user
3.2-megapixel camera
3.5mm audio jack
HSPA-enabled 3G, Bluetooth, Wi-Fi802.11 b/g/n/a connectivity
GPS
Rechargeable 1,500 mAh lithium battery
The new high-end Sony Xperia tipo smartphone looks very sturdy and solid, and its 3.2 megapixel camera also works well for video, picture with its super-high resolution and brilliant color. Sony has addressed your concerns as a rechargeable large-capacity 1500 mAh lithium battery is assigned to support the high power consumption mobile device.
Sony Xperia tipo comes bundled with a stylish new and lightweight which measures just 103 x 57 x 13 mm and weighs in at 99.4 grams is portable enough to carry around. The phone is available in red, white, blue, and black color and plan to hit the market during the third quarter but its exact launch date and price info are yet to be known.