What is 'Picture Frame Clock Radio for iPod/iPhone'? Is it a digital picture frame, an alarm clock or a radio player? You are right on all! Actually, Sony ICF-CL75iP is a new multi-functional device that combines a digital picture frame, an alarm clock, a radio player as well as an iPod or iPhone dock into one cool-looking piece of product. It can easily be placed in your home or office and will only occupy just a small space.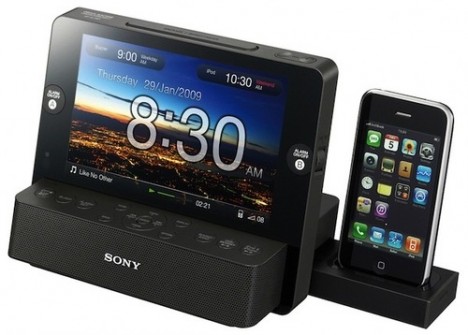 This innovative device also has a 7-inch LCD screen (WVGA @ 800 x 480). It gives you a crystal clear experience while viewing your favorite photos or used as a picture frame to display your favorite pictures. You also can watch movies (MP4, Motion JPEG and AVI) from the LCD screen. With its 1GB of built-in storage, you can store your photos, music and movies in this device via USB. The ICF-CL75iP also comes with FM/AM radio functions. It has 30 preset stations for you to choose from. If you are bored with the music playing from the radio stations, pull out the retractable iPod or iPhone dock and place your iPod/iPhone on it to play your preferred songs or music from the iPod/iPhone.
This innovative gadget also can be your 'wake up machine' in the morning. It is equipped with an alarm feature. It has a few options of wake up sound. You can choose to either wake up via radio, iPod/iPhone or built-in nature sounds like Sea Waves, Birds, Rain, Brook and Under the Sea. If all this wake up sounds are not effective to wake you up from bed, you can record your mom's nagging voice or the boss' holler for 10 seconds and set it as the wake up sound. This will surely help you not to stick around in bed in the morning.
The Sony ICF-CL75iP Picture Frame Alarm Clock iPhone Dock will go on sale in October for around $150.