Keyboard shortcut is a set of combination keyboard strokes which can be used to trigger the predefined actions such as to type special characters with accent marks, type currency symbols, type domain extensions, and etc. Besides that, keyboard shortcuts are also used extensively to increase task action speed.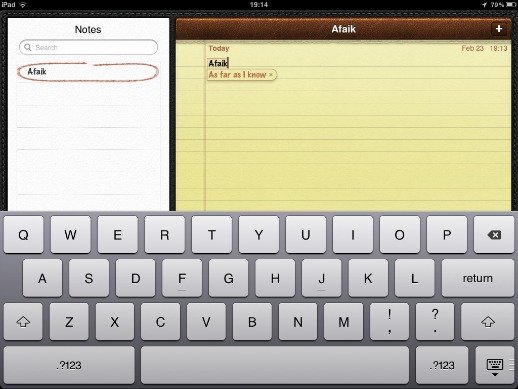 Here's the list of shortcuts which could help type faster by using the on-screen keyboard of iDevice.
Type special characters with accent marks (example à or è)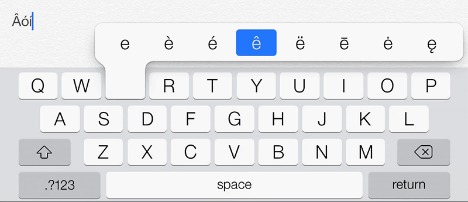 1)      Simply tap and hold the corresponding alphabet key for a while
2)      Pop-up list will appear with related accented characters. Note: Don't release the key before making a selection else the choices will disappear.
Type currency symbols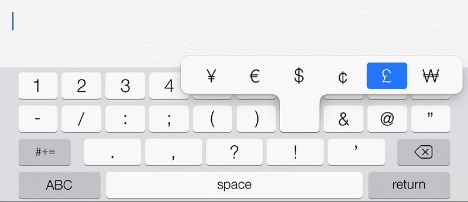 Although dollar ($) symbol by default on iOS device numeric keyboard (.?123), sometimes you may need to type Pound or Euro currency symbol. Hold the $ key and long list of alternative currency symbols will pop-up.
Type Punctuations, Quotes, Arrows, Dashes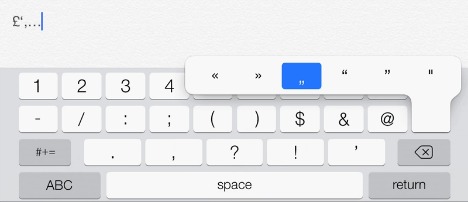 If you want to change the style of quotation marks or need to use a longer dash punctuation mark instead of the default hyphen, press and hold the corresponding key. For typing the degree symbol in your email message, switch to the numeric keyboard and hold the '0' key for a while.
Domain extension

While you are inside the Safari browser or type email address, you might need to type domain extension manually. In iOS 7, you can type domain extension with hold the dot(.) key.
Press and hold the dot (.) key, domain extension pop-up list will show up to let you insert domain extensions such as .com, .org or .net to auto-complete web/email address.
Keyboard split
You can split the iPad keyboard into two and type faster with both your hands while holding the device. To split the keyboard, press and hold the keyboard icon in the lower right and choose the Split option. Note: If the option isn't available on your iPad, go to Settings -> General -> Keyboard and toggle the Split Keyboard option.
Switch between alphabetical (ABC) and numerical (123) keyboards
Sometimes you might type document and need insert numeric symbol. As normal practice, you will switch to the numeric keyboard (?123), tap numeric symbol and then again switch to alphabetical (ABC) keyboard.
To simplify or speed up the typing, you can just press the ?123 key, slide the finger to reach the numeric symbol that need , and then lift the finger up to release the key.