Do you know the length of a USB connector? It is less than 14mm. So, can you imagine a USB thumb drive that just measures less than 20mm in overall size? Is it unbelievable? However, LaCie, the world class computer hardware company has made this happened. LaCie has unveiled an ultra-small USB thumb drive named MosKeyto with a measurement of less than 20mm and weighing 10 grams.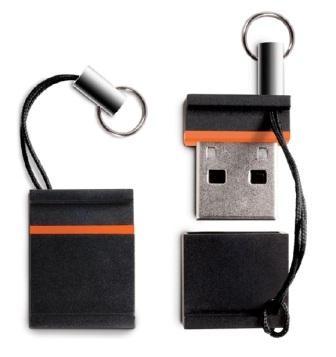 Moskeyto is one of the smallest USB thumb drives in the market. It just extends 6mm out from the laptop after it is plugged into the laptop. You can carry your laptop around without removing it because it is nearly invisible. Even though its size is tiny, its storage capacity is huge. MosKeyto is available in 4GB, 8GB and 16GB capacities.
"While the MosKeyto has resemblance to a bug, with its small size and big bytes, this USB key is far from pesky," said Lacie's accessories product manager Alexis Kobassian, in a statement. "It provides high capacities in a low-profile connector, allowing you to insert it into your notebook and forget it. And with its low cost/gigabyte price, you can forget about that, too."
Being too little makes it run the risk of being misplaced. LaCie is well planned to minimize the risk of losing it. MosKeyto can be easily attached to a key ring with its equipped nylon strap. It also comes with a plastic cap to protect the USB connector. The price starts from US$17.99 for the 4GB version which is inclusive of an additional 4GB of Wuala Secure Online Storage offered by LaCie.