Skyla Memoir FS80 is the world's first digital photo frame with an integrated scanner that allows users to convert conventional print photographs into the digital format. The digital photos can then be stored directly into its internal memory with a capacity of 1GB. The Memoir FS80 displays your memories on the frame and supports slideshows with MP3 music on its high quality 8" LCT screen.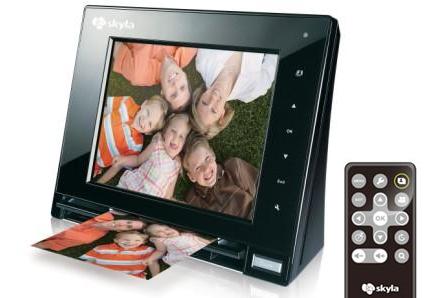 Skyla is the new brand entity of Lite-On IT, a global leader of optical storage solutions for PC and the consumer electronics industry. "We separated our consumer and optical Divisions to dedicate efforts toward creating products to meet specific consumer demands and maintain consistent quality and world class services. Memoir represents the first of many consumer electronics products we plan to introduce under the Skyla brand. Memoir, with its built-in scanner, exemplifies Lite-On's commitment to producing innovative products to help consumers share and preserve precious memories of their life," says Mr. Ostwind, Director of Sales & Marketing, Lite-On IT.
The summary features of Skyla Memoir FS80:
Scans prints up to 15x10cm with resolution up to 300dpi.
1GB internal storage stores up to 2000 photos.
The 8-inch LCD display comes with 800×600 pixel resolution and light sensor for ambient backlighting.
Smart touch pad for effortlessly edit, file and browse through digital photos.
Fun and easy scanning of your photographs into digital format; as simple as 1-2-3.
Comes with a remote control for easy control and comfortably shares photo slideshow with friends from a distance.
Displays photos in thumbnail, slideshow with transition effects or MP3 music and auto rate.
Supports JPEG, BMP, MP3, Motion JPEG, MPEG1, MPEG4 file formats.
5-in-1 card reader (CF/SD/MS/MMC/xD) and 2 USB ports for easy and speedy transfer of your files to an external PC or memory card.
Timer power off setting, screen saving mode, built-in clock, calendar & alarm clock.
The Memoir FS80 should be available from the end of April 2009 at around £178. It is ideal for those who have bundles of dusty photographs stored in the drawer or cabinet and seek a simple solution to digitalize his/her memories.