Using a smartphone to jot down a note was giving very convenience way to all users in any fields. So, when it comes to note taking on mobile devices, a few names was flash through our mind. Simplenote, the note-taking and syncing app beloved of productivity addicted by all users has finally released on Android.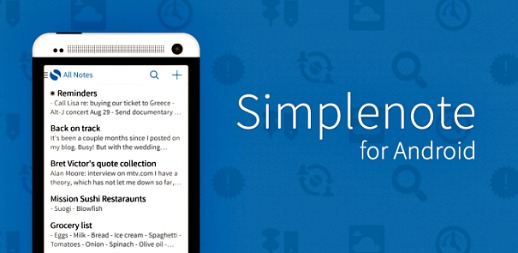 Like the iOS version, the Android app is free and you can get it on Play Store. You can now download it and simply start the apps without the need to create a Simplenote account. The goal of Simplenote is to give you a way to create simple, quick, text notes that are synced across multiple devices. It is a great way to take notes in meetings, in a class, or anywhere else on your Android device. You can jot down your notes as long or short as you like. Each time create a note; user can assign them by tag for later filtering and also searching by keyword purpose.
It only includes the things you need to keep your notes organized is the smarter way of this app. The result is a very clean interface that follows the Android Holo guidelines to the letter. On the other hand, the app is smart about how it adds text to the notes too. The first line is always a slightly larger font to indicate the title. The rest is the body of your note.
Simplenote will compete with others note-taking apps which already available in Google Play Store. It's already a competent note management app and it is free.
Simplenote for Android: https://play.google.com/store/apps/details?id=com.atomiix&hl=en
Simplenote for iOS: https://itunes.apple.com/us/app/simplenote/id289429962?mt=8