With millions of iOS-based and Android-based smartphones been sold every month, most people liked to use free voice calling app to chat for free through connection internet. Sidecar is another new and popular free voice calling app for iOS and Android platform. Similar to Viber, Sidecar is available as a free download, without any in-app purchase required to enjoy the full functionality of free voice calling and shares data like videos, location, contact information, and pictures live when you're on the call between iOS and Android Sidecar users.
Sidecar offers free phone calls and facilitates data sharing directly within a call through WiFi or mobile data network. As long as Sidecar app is installed on either iOS or Android platform, Sidecar users can send a live one-way video, send photos, contacts, and share location information. In addition, both Sidecar users also able to see each other location and map.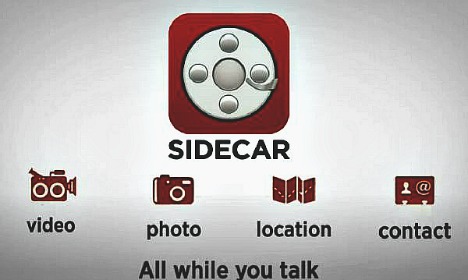 Features of Sidecar:
No international charges.
Real-time video.
Snap brilliant pictures, or share photos from their phone's library.
Full call screen whenever a Sidecar call is received.
Whisper text message notification.
Send a private text message to another Sidecar user during a call.
Pass along and integrate contacts information from their phone's address book.
See where you are in relation to each other, and share locations.
Support most brands of Android and iOS devices – Samsung, HTC, LG, iPhone, Motorola, Sony Ericsson and more.
Download Sidecar app for iOS from iTunes App Store.
Download Sidecar app for Android from Google Play.
A video of Sidecar: