Intel has just launch its Intel Atom processor in IDF (Intel Developer Forum) held in Shanghai recently. Not long after that, there is already a new actual product planned to be released for mobile world. Named as D4 WSO16SH, it is the first small form factor powerful UMPC (Ultra Mobile PC) released by Sharp targeted for consumer market in Japan.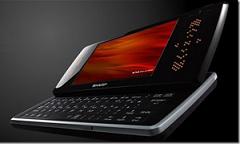 Its sleek and stylish design has made it so impressive especially when it is the first product available in the market with Intel Atom logo on it. Measured at only 84mm X 188mm X 25.9mm, the device weighs merely at 470 gram, even lighter than some of the famous MID (Mobile Internet Device) in the market. However, don't underestimate its power – the gadget is powered by an Intel Atom Z520 clocking at 1.33GHz, which is almost equivalent to any laptop or PC's processor aiming for high performance tasks. Good thing is, Intel promises a low TDP (Thermal Design Power) ranging from 0.65 W to 2.4 W so that the performance per watt of the device can be boost up significantly. Additional features of the device include QWERT hard keyboard, WiFi, Bluetooth 2.0 and 2MP camera module. Surprisingly, the device is designed to be used in Windows Vista OS environment with only 1GB RAM memory support.
Priced at $1272, it is quite a luxurious gadget and will be launched by June 2008 in Japan. Hopefully, other manufacturers will come out with other competitive products to bring the selling price down so that it is more affordable by public.