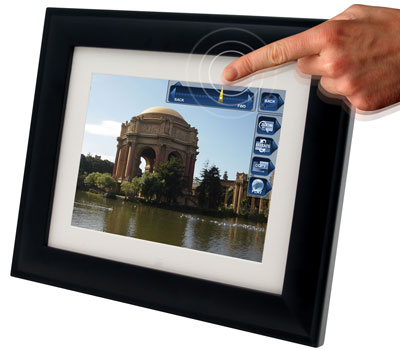 The impact of photo albums very much extends beyond merely recording historical moments. It is a place where you can share the meaningful moments with someone you love. It tells your story, your feelings, your experience, your tears, your memorable and unforgettable moments. It is a means of communication that is so real and sincere. Hence, displaying memorable photos in the house are generally quite common. To help you to keep the memorable moments fresh and vivid in your mind, Pandigital brought to you a line of unique digital photo frame with touch-sensitive functions. This photo frame does not just display a single photo but it displays the whole album of the special moments that you have recorded.

This sophisticated digital photo frame features a touch-sensitive interface. Users can touch or slide their fingers on the icons of the screen to control the digital photos. They can switch and browse through the digital photos uploaded onto the photo frame. The PanTouch High-Definition Digital Photo Frame also can play MP3 music files and video clips.
There are various models under the PanTouch Digital Photo Frame series. Each model comes with different display area size, resolution and storage. The 7-inch PanTouch Digital Photo Frame displays images at resolution of 482×234 pixels. The 8-inch and 10.4 inch PanTouch High-Definition Digital Photo Frame offers resolution at 800×680 pixels and 1024×768 pixels respectively. The 7-inch type features 128MB of memory while both 8-inch and 12-inch type comes with 512MB of internal memory. All the three models are Wi-Fi and Bluetooth compatible. Users can transfer photos to the frame via a Wi-Fi connection or sync the frame with a Bluetooth-enabled phone. Besides, all the three models also feature 6-in-1 memory card readers, standard and mini USB 2.0 ports, programmable on/off times, clock, calendar, alarm clock functions, and a unique "convenient page turn" effect that lets users view their photos by making a forward or backward swipe motion on the touch matte.
The PanTouch Digital Photo Frame series will be available in May. The 7-inch, 8-inch, and 10.4-inch High-Def PanTouch frames will sell for $119.99, $169.99, and $249.99, respectively.