Servers Ultimate is the latest free Android app that could turn the Android phone into a server used for streaming media, securing public Wi-Fi, or sharing files between friends. Servers Ultimate support different server types included DNS, DDNS, Email (POP3 and SMTP), FTP(S), Proxy (tunneling), SMS Gateway, Time (NTP or TP), UPNP, HTTP(S), and WebDAV (secure).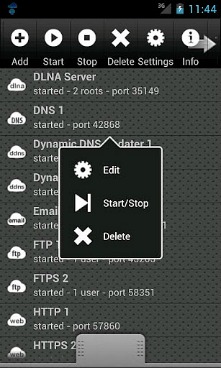 Features of Servers Ultimate:
Supports more than 10 different types of servers
Add a Dynamic DNS Updater using the local or public IP of your device
Set a custom name and port per server
Start or Stop servers automatically
Able to set a WIFI lock
Optionally save all the server data to the SD card to prevent removal during upgrades
View all IP addresses of your device, including the public IP
Automatically email and clear the log when the maximum amount is reached
Verbose log (filter, email, etc)
Servers Ultimate built in DLNA or UPnP media server for streaming videos and adds multiple roots, proxy server for securing and encrypting traffic, and FTP, WebDAV or web server for storing and sharing files.
With Servers Ultimate, users able to set up and running a server easily by simply install and add servers from the list. To connect to the server from a network, users will need the IP address of the phone. The servers can be started and stopped depending on the connected wifi network, and can be started on boot or on when the app is started.
Servers Ultimate for Android is completely free and available in the Google Play store, and the app is compatible with Android 2.1 or later.
Download Servers Ultimate for Android from Google Play store.