SecureZIP, previously known as PKZip Professional, although has a 'ZIP' on its name, is not just a compression and decompression utility. SecureZIP is an integrated security and compression tool that not only zips and unzips files, but also encrypts the files to securely protecting data in transmission, transfer, transit or been stored on computer that contain sensitive data.

SecureZIP features support for both passphrase and X.509 digital certificates encryption, ability of application integration which streams data directly in and out of application without having to be extracted before can be read by an application, and can automatically open an archived file with its associated application without opening SecureZIP if the option is set in Office Integration tab of Miscellaneous options. SecureZIP also has ability to Open or save archived documents directly from Microsoft Word, Excel, or PowerPoint with SaveSecure Office Integration option. Version 12 adds integration with Microsoft Outlook for secure email messages and attachments.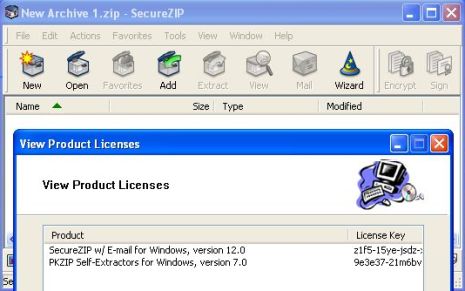 PKWARE, the developer of the de-facto ZIP compression since 1989 with PKZIP, but since lost its popularity to WinZIP, has made SecureZIP 11 a freeware, and is currently having a time-limted promotional offer for everybody to download a SecureZIP with full individual user license. The free SecureZIP is a full version product, with no serial number or registration code required to activate it, and it's not a trial version. The license keys for SecureZIP w/ E-mail version 12.0 and PKZIP Self-Extractors version 7.0 have already been embedded and automatically installed on setup.
To receive your free copy of fully licensed SecureZIP 12, enter your email at SecureZIP homepage, and you will receive an email with a personalized download link to download SecureZIP setup installer. Current version of SecureZIP been downloaded is 12.00.00.0018.
Always free SecureZIP Express is also available.