The worldwide leader in the design, manufacture and marketing
of hard disk drives and storage solutions, Seagate Technology has announced the launch of its Seagate Showcase storage solutions, the new series of products that extends the storage capacity of your (Digital Video Recorder) DVR and compatible with Motorola's market leading e-SATA capable HD DVR set-top portfolio.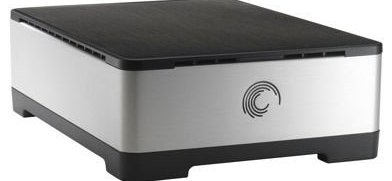 "Today's consumers are constantly demanding more storage for high-definition video and high-fidelity audio – and they want it as part of their home entertainment system," said Patrick King, senior vice president of Seagate's Consumer Solutions Division. "We believe that the Seagate Showcase product line will take its place alongside the receiver, speaker system and television as a must-have component for the entertainment center. We are pleased to be working with Motorola to enable an enjoyable consumer experience."
Key Features And Benefits Of Seagate Showcase:
The Seagate Showcase industry leading acoustics provides quiet operation perfect for the bedroom or living room where content is most often enjoyed
Capacities up to 1 TB add up to 200 hours of high-definition content or 1000 hours of standard definition television to existing systems
Plug-and-play capability makes setup a snap
eSATA and USB 2.0 connections packaged in a stylish design provide a seamless fit with other AV equipment in the home
"As consumer video consumption continues to increase at exponential rates, Motorola strives to provide flexible and cost-effective solutions," said Larry Robinson, vice president, Set Top Product Management at Motorola. "By demonstrating interoperability with the Seagate Showcase storage solution we are offering consumers additional compelling storage options for their entertainment content."
According to the company, "The new Showcase family will feature Seagate's recently announced Pipeline HD Series of hard drives purpose-built for DVRs. Seagate Pipeline HD Series hard drives are the gold standard in high definition performance and capacity with bedroom-quiet acoustics, low power operation and the ability to support up to 12 simultaneous HD streams. The drives are Windows Vista Certified, making them an ideal solution for Home Media Centers."
The new Seagate Showcase products ranging from 250GB to 1TB storage capacity are expected to be available in coming Q3 2008 but on words on their prices yet.