Watching your stored digital media from a 17-inch monitor may not be very satisfying compared to your 40-inch TV screen. To enable users to retrieve their digital media such as music, videos, photos, etc easily from their portable hard drive and play them on their TV screen, the hard drive maker, Seagate, has come up with an interesting solution. The release of its new Seagate FreeAgent Theater HD media player was unveiled during CES in Las Vegas lately.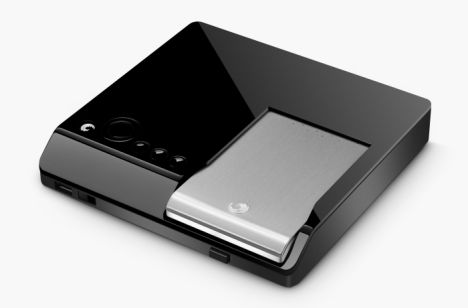 This Seagate FreeAgent Theater HD media player is a little black box that can accommodate a portable hard drive. This square device has the processing power and the codecs onboard to read a wide variety of file formats, e.g. MPEG-1, MPEG-2, MPEG-4, and DIVX files with support for NTSC, PAL, and HD resolutions up to 1080i. In terms of audio format, this device supports various popular digital-audio formats such as MP3, WMA, WAV, and OGG. This little black box is connected to a TV via component cables and the digital media stored from the external hard drive can be played back. The Seagate FreeAgent Theater HD Media Player features a small display for easy navigation.
Seagate offers two purchase packages: a standalone unit to be used with USB enabled storage devices and a bundle that includes a FreeAgent Go external drive. This interesting media player is priced at $130 for the stand-alone unit and $230 with a 250GB hard drive or $300 with a 500GB. All configurations include a remote.
Check out more features and specifications of Seagate FreeAgent Theater HD.