Every year countless batteries are used and abandoned without being recycled, thus resulting in hazardous pollution to our Earth. Let's start to save the Earth with an ecologically and environmentally friendly water powered clock. No electricity and no batteries are required. You just need a 'water' battery, to be topped up when necessary to make the clock function. How does it work? It is an electrochemical reaction between the electrodes and water, which produces electrical energy to power the clock. Adding water when necessary will provide endless power supply to it.

There are few water powered clocks offered in the online shop. Here are three of them.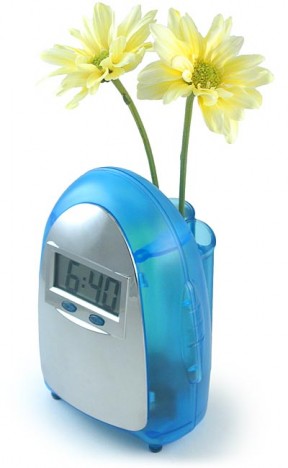 1. Water powered clock by ThinkGeek
Key features:
A simple water powered clock with a clear display on time and date.
Translucent blue at the side and back.
Mini vase – can hold flowers on the back.
Dimensions: 15.0cm x 10.0cm x 6.2cm
Available at $12.99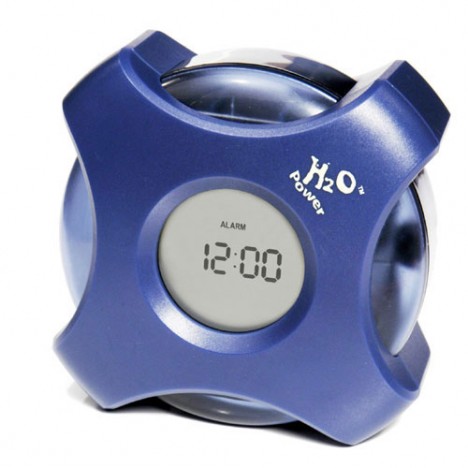 2. H2O water powered alarm clock by Gadgetshop
Key features:
Multi-function fun water powered alarm clock.
Just rotate the clock to see a range of functions such as time, alarm, timer and temperature.
Dimensions: 9.5cm x 9.5cm x 5.0cm
Weight: 0.2kg
Available at £19.99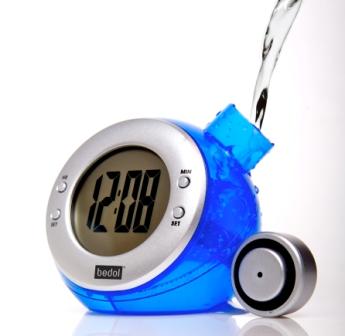 3. Eco-friendly water-powered clock by Bedol
Key features:
A cool looking water powered clock.
Big display in front with a mini transparent tank at the back.
Available in three colors of blue, green and orange.
Advisable to squeeze some lemon juice into the water tank to enhance the power generated by the clock and for it to work efficiently.
Dimensions: approximately 10.0cm x 8.8cm
Available at $16.00
Buy one of them to your children and educate them to save the Earth. Let us fight against global warming today!