Nowadays, technologies convergence is the new trend by able to combine few interesting features into an All-in-One gadget. Samsung, the famous Korean mobile phone manufacturer has just announced the world's first Digital Video Broadcast – Handheld (DVB-H) mobile TV targeted for Europe market. Named as P960, it offers great visual experience of integrating a digital TV module besides having basic smart phone feature to fulfill consumer huge demands for digital entertainment in mobility.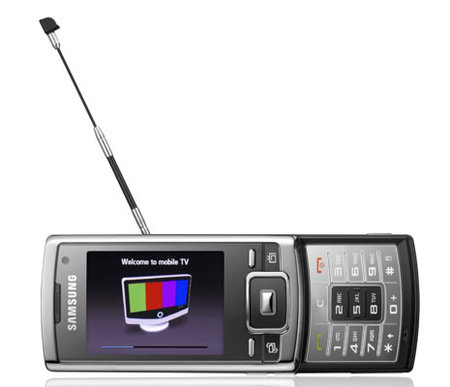 The gadget is compliance to European mobile TV standards such as DVB-CBMS (Digital Video Broadcast – Convergence of Broadcast and Mobile Service) and Open Mobile Alliance Mobile Broadcast Service. Not to be burden by huge receiver module, P960 looks quite stylish with sliding hard keyboard available for fast channel access. It is even featured with a huge 2.6-inch QVGA resolution TFT LCD screen that guarantees great visual experience without increasing its form factor significantly (only measured at 102 x 53 x 16.7 mm). Some advantages include the ESG (Electronics Service Guide) and PIP (Picture in Picture) that have been redesigned from conventional digital TV, making it a full features portable TV on the move. In terms of audio stacks, it utilizes high end Bang & Olufsen ICEPower technology that makes it a perfect gadget for everyone.
Unlike DVB-T that is usually free of charge, DVB-H will have some subscription charge being incurred by service providers. No pricing has been disclosed yet but we should expect it to be more affordable to public by having some of the costs being absorbed by service providers for the subscription plan. The mobile TV phone will be available in few Europe countries such as Netherlands, Switzerland, Germany and Austria soon.