Samsung has launched its new award winning, dual multimedia LCD display – SyncMaster 2263DX, consisting of 22" widescreen (1680×1050 resolution; 300 cd/m² brightness; 5ms response time; contrast ratio of 1000:1) and 7" widescreen (800×480 resolution; 200 cd/m²; 3ms response time; contrast ratio of 400:1) thanks to the DisplayLink's USB Display Technology, aiming to allow secondary applications and programs including instant messenger, movie/music player, web browser, photos, or widgets, run without distracting from the main work display.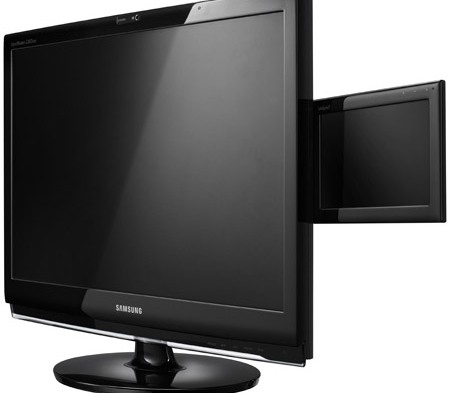 "Samsung is now the world's leading manufacturer of LCD displays for the PC market, and DisplayLink is helping them stay at the forefront of innovation with our one-of-a-kind USB display technology," said Dennis Crespo, executive vice president of marketing and business development for DisplayLink.
According to the company, "The USB (UbiSync) connection of the 7" screen enables easy setup and the articulating arm allows convenient positioning."
The new Samsung SyncMaster 2263DX dual multimedia display that comes equipped with an integrated 3.0M built-in webcam, 1.5W down firing speakers and microphone is now available for about $550.