The Korean consumer electronics giant, Samsung has recently announced the launch of its Anycall Haptic premium touchscreen phone (model: SCH-W420/SPH-W4200), which can use 22 different types of vibration to simulate actual feels and actions.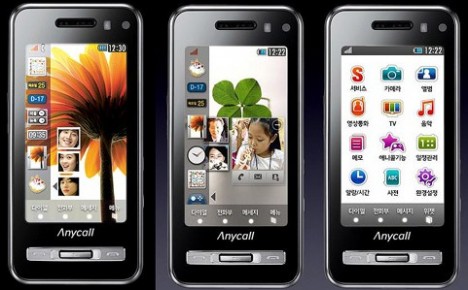 In addition, the new Samsung Anycall Haptic phone also features a large 3.2-inch WQVGA widescreen (16:9) display, 2-megapixel digital camera, full Internet browser, Bluetooth 2.0 and terrestrial DMB TV.
"The first generation was ordinary mobile phones, and the second generation was touch-screen phones. The Haptic Phone is a third-generation phone that stimulates users' sensations," said Jang Dong-hoon, vice president of Samsung. "We will continue to show premium handsets that have innovative user interface."
The new and slim Samsung Anycall Haptic phone which measures only 12.1 mm thickness is available in Korea, but no words on its availability at other countries yet.
Watch a Korean TV commercial of the Samsung AnyCall Haptic below, which includes Korean pretty girl – Jeon Ji Hyun.