SSD (Solid State device) is a nonvolatile storage device that stores persistent data on solid-state flash memory that replacing conventional hard disk drive especially with its great performance needed by high end machine. Samsung Electronics Co. has announced the release of its new SSD-based portable storage – T1. The Samsung Portable SSD T1 has a sleek black chrome surface and comes with similar size of a business card where measurement 71.0 x 9.2 x 53.2mm and weight just 30g make it easy to conveniently carry.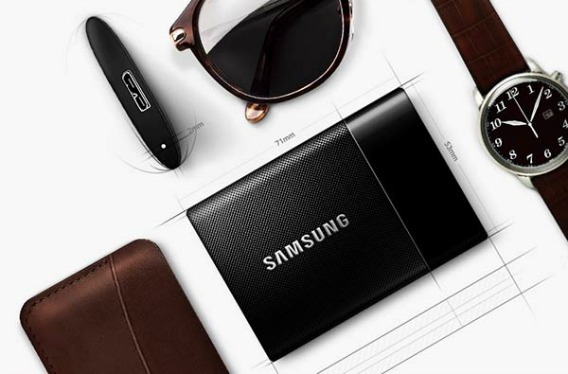 The T1 is a secure and durable portable SSD that performs 7 times faster than a regular external hard disk drive (HDD) with transfer rate up to 450 megabytes per second (MB/s). With that speed, you can transfer a 3GB movie file in just 8 seconds or a 10GB movie file in about 27 seconds. The USB 3.0 port is no bottleneck either, with an interface speeds of 5GB/s.
Specification of Samsung T1:
Capacity: 250GB, 500GB, or 1TB
Interface: USB 3.0 (compatible with USB 2.0 and 1.1)
Transfer Speed: up to 450MB/s
Encryption: AES 256bit
Certification: CE, BSMI, KC, VCCI, C-tick, FCC, IC, UL, TUV, CB
Warranty: 3-year Limited
Dimensions: 71.0 x 9.2 x 53.2mm
Maximum Weight: 30grams
The T1 comes in three different capacities – 250GB, 500GB, and 1TB which costs $179, $299, and $599. Samsung T1 will be available in the US, European, and Asian markets later this month.
Promo video for Samsung Portable SSD T1: