Are you impressed by the Samsung Galaxy S4 features? No time to dig through a ton of articles on all the new features in the Samsung Galaxy S4? If you're in comparison between Samsung Galaxy S4 and Galaxy S3 and would like to know more details about both, then you can view the following comparative table between Samsung Galaxy S4 and Galaxy S3 for checking the specifications and features at a quick glance.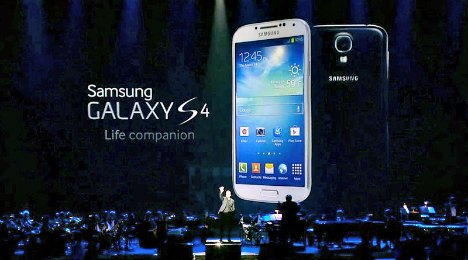 | | | |
| --- | --- | --- |
| Samsung Galaxy S3 |  Versus | Samsung Galaxy S4 |
| 1.4GHz Exynos 4412 Quad-core processor and based on the ARM Cortex-A9 architecture | Processor | New Exynos 5 Octa processor (1.6GHz) eight-core / 1.9GHz quad-core Qualcomm Snapdragon 600 series processor |
| 4.8-inch Super AMOLED capacitive touchscreen display with 306 ppi (1280 x 720 pixels) resolution. Corning Gorilla Glass 2 – TouchWiz UI | Screen | Larger 4.99-inch Super AMOLED display with 441 ppi (1920 x 1080 pixels) resolution. |
| 2 GB RAM | RAM | 2 GB RAM |
| 8-megapixel camera with HD 1080p video capture plus 1.9MP front-facing camera. Equipped with a feature "Smart Stay eye tracking" and a technology called Zero Shutter Lag | Camera | 13-megapixel camera with HD 1080p video capture plus 2.0MP front-facing camera. |
| Wi-Fi 802.11 a/b/g/n, DLNA, Wi-Fi Direct, Wi-Fi hotspot, Bluetooth v4.0 with A2DP + EDR, NFC | Connectivity | Wi-Fi 802.11 a/b/g/n, dual-band, DLNA, Wi-Fi Direct, Wi-Fi hotspot, BlueTooth v4.0 +A2DP + LE+ EDR, NFC, INFRARED, Wireless Charging |
| S-Voice natural language commands and dictation, Touch-sensitive controls, GPS | More Features | TouchWiz skin, Eye-tracking technology in the form of Smart Scroll and Smart Pause, S Translator, Air View(Air Gesture), S Health |
| 136.6 x 70.6 x 8.6 mm | Dimensions | 136.6 x 69.8 x 7.9 mm |
| 133 grams | Weight | 130 grams |
| 2100 mAh battery | Rechargeable Battery And Usage Time | 2600 mAh battery |
| Android, Jelly Bean 4.1 | Operating System | Run Android 4.2.2 (Jelly Bean) |
From the table above, you can clearly see, despite looking terribly similar at first glance, there's a world of difference between these two Galaxies. Latest flagship Samsung Galaxy S4 offers more powerful hardware upgrades to the screen, processor, and camera. The software also has lot of changes with the eye-tracking technology like Smart Pause which lets users pause a video by looking away from the screen, Smart Scroll, touch-free gestures, tweaks to Touchwiz, and more. Samsung has done an impressive job releasing a thoroughly worthy update to their hardware line, and it will be interesting to see how the phone competes with the rest of the market as the year progresses.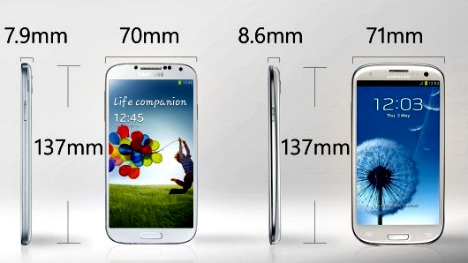 Anyhow, is the upgrades is big enough carrot to entire on to jump from one phone to another?