The leading company in advanced memory technology, Samsung has announced that it has developed the world's fastest, 2.5-inch, 256GB (multi-level cell) MLC-based SSD (solid state drive) using SATA II interface, which is only 9.5mm thick and 2.5-inches long.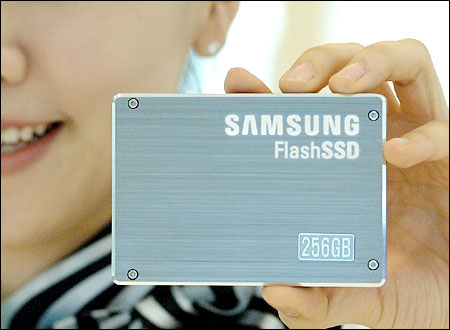 According to the company, "With a sequential read speed of 200 megabytes per second (MB/s) and sequential write speed of 160MB/s, Samsung's MLC-based 2.5-inch 256GB SSD is about 2.4 times faster than a typical HDD."
This 256GB SSD also can prevent file/data stored on the SSD from being accessed in an unauthorized manner even after the SSD is removed from your PC, thanks to the sophisticated data encryption process.
"With development of the 256GB SSD, the notebook PC is on the brink of a second stage of evolution," said Jim Elliott, vice president, memory marketing, Samsung Semiconductor, Inc. "This change is comparable to the evolution from the Sony Walkman to NAND memory-based MP3 players, representing an initial step in the shift to thinner, smaller SSD-based notebooks with significantly improved performance and more than ample storage."
In addition, the new Samsung's 256GB MLC-based SSD is also promised to offer a mean time between failures (MTBF) of one million hours while costing less than (single-level cell) SLC-based SSD, and draws only 0.9 watts power in active mode.
The company is planned to begin mass producing the 2.5-inch, 256GB SSD by the end of the year, while a smaller, 1.8-inch version of the 256GB SSD is expected to be available in Q4 2008.