The global leader in semiconductor, telecommunication, digital media and digital convergence technologies, Samsung has announced the launch of its new "Touch Of Color" (TOC) family of desktop monitors including T190 (19-inch), T220 (22-inch), T240 (24-inch) and T260 (26-inch). All of them feature maximum contrast ratio of 20,000:1, MagicColor intelligent color control and MagicBright Dynamic Contrast control.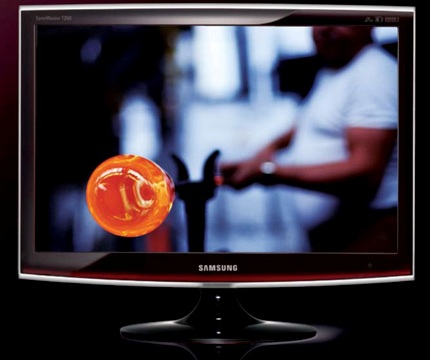 According to the company, the new Samsung TOC monitors are designed to be extremely power efficient as it consumes just 0.3W power when in standby mode. In addition, they also feature the multi screen functionality that allows users to divide their screen into different workstations, sorting programs and projects to increase their productivity with no additional software needed.
"With our new Touch of Color monitors, Samsung maintains the industry standard for design and functionality," said Christopher Franey, Vice President, Marketing & Commercial Sales, Samsung Electronics America, Inc. "Our monitors' sleek, minimalist design and deep ruby red accent compliment stylish home and office environments alike. In developing the TOC monitors we did not compromise or sacrifice aesthetics for functionality but instead, achieved the best of both."
The new Samsung TOC T190 ($259) and T220 ($359) LCD monitors are available now, while the T240 ($499) and T260 ($599) are scheduled to hit the market by the end of July.